When someone we love dies, knowing what to say or do can be challenging. One way to express your condolences is with beautiful flowers. Flowers have been used for centuries to communicate messages of love and support, and the language of flowers is still alive and well today. Let's look at some pictures of the most popular flowers for funeral arrangements, as well as their meanings. We hope to help you choose the perfect flowers to express your sympathies during this difficult time.
Flowers As a Necessity
Throughout history, loved ones used flowers in funeral rituals. In the past, loved ones selectively placed flowers to eliminate odor and give beauty to an otherwise dark and gloomy time. As families gathered in the historical past, there was no embalming, bathing, or makeup to help the deceased look like they did while alive.
In today's times, funeral homes help our loved ones look like they are merely resting as we pay our respects at visitations or funerals. However, the flowers remain a very much loved aspect of celebrating the life of someone who has passed away.
Wreath Symbolism Evolves Into Flowers
Wreaths' have a history of symbolism in Ancient Greece as they represented the circle of eternal life. Evergreen wreaths were popular at burial places of early Christian martyrs in Europe, representing the victory of the eternal spirit over death. (1) 
In historical England, the frames of the wreaths were made from Willow wood to represent mourning or Cypress for strength. In our times, loved ones traditionally order funeral wreaths to adorn the area around the casket at visitations, wakes, and graveside services. These flowery wreaths usually sit on easels and decorate the space around the decedent. 
Wreath Pictures of Funeral Flowers Arrangements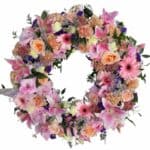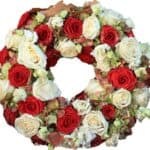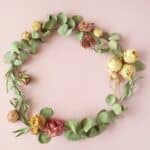 Standing Funeral Flowers Arrangements
Large standing bouquets and sprays often surround the casket. Funeral guests may send these to the funeral home for use at the visitation, funeral, or memorial. They also adorn graveside services. You can also have custom pieces created in any shape or size as large as you like.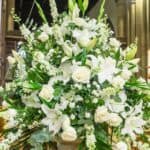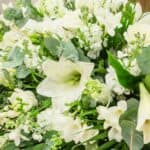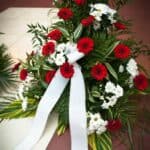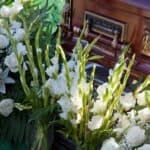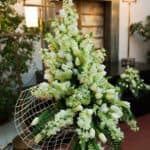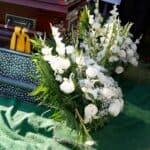 Casket Sprays Funeral Flowers Arrangements
Casket sprays are flower arrangements that lay on the casket.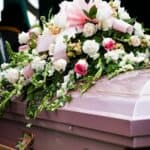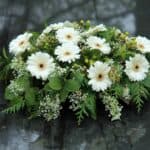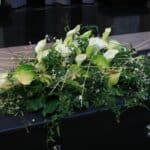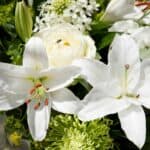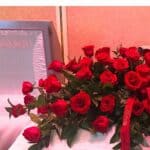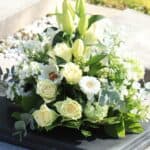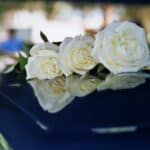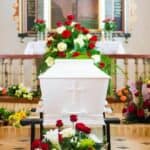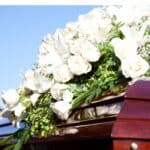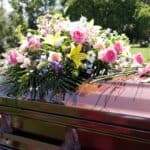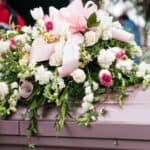 Inside Pieces Funeral Flowers Arrangements
Inside pieces sit in the casket with the decedent in the form of a small spray, bouquet, corsage, boutonniere, or other arrangements.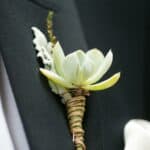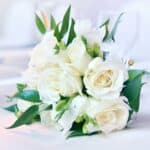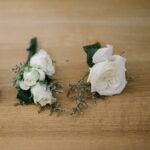 Table Funeral Flowers Arrangements
Table arrangements sit on tables at receptions or other types of gatherings for dinners honoring and remembering your loved one. You can make them elaborate and colorful or simple and delicate.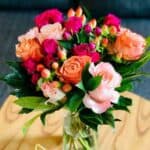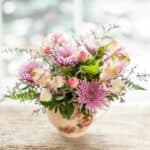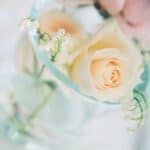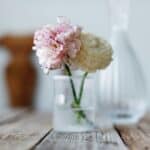 Flower & Plant Gifts For Loved Ones
Showing compassion and solidarity with the grieving family can be as easy as sending or bringing a beautiful plant and flower arrangement to brighten their home.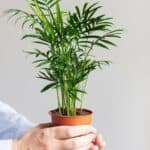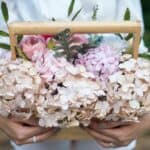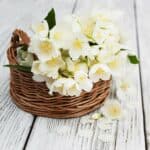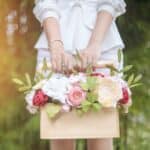 Flower Symbolism
In modern times, expressions of grief and comfort include more than just wreaths around the casket. Flowers often represent life and vitality. Burial flowers often have traditional meanings that you can consider as you think about what type of flowers you'd like to include.
The infinite choice of what kind of flowers to send may cause you to feel overwhelmed. For this reason, many families let the florist choose arrangements based on a color scheme and style. However, you may also select the type and color of flowers because you want to convey a deeper meaning through your selection. 
The Meaning of Different Flowers at a Funeral
The white lily, in particular, is often seen as a symbol of purity, innocence, and rebirth. The Easter Lily is also a prevalent choice because it represents hope and life after death. Other flowers that represent hope are sunflowers, daisies, and mums.
Other flowers with specific meanings include:
Pink roses: love and grace 

White roses: innocence, youth, and reverence

Red roses: respect and love

Crimson roses: grief and sorrow

Yellow roses: friendship

Orchids: strength and beauty

Baby's breath: innocence

Gladioli: strength and moral integrity

White carnations: love and innocence

Pink carnations: remembrance

Red carnations: admiration

Chrysanthemums: truth, honor, and respect

White or Pink Orchids: everlasting love for the deceased
You can also choose flowers to represent your loved one's personality or hobbies. If they were outgoing socially, you might choose colorful blooms. You could select blue flowers for someone who loves the color blue. If they loved gardening, you could include flowers from their garden in the arrangements.
We Can Help
At Renaissance Funeral Home and Crematory, we offer flower arrangements to make planning easier for you. You can also bring your own flowers or have someone else provide them. We're here to help you plan a beautiful and memorable service for your loved one or yourself. Contact us today to plan for yourself or a loved one.