When someone close to us dies, it is often hard to know what to do or say. One thing that you can do to show your support and sympathy is to send sympathy flowers to the funeral. Flowers are a traditional way of expressing condolences and can show the family that you care. Keep reading to find out everything you need to know about how to send flowers to a funeral. We will also cover the types of floral arrangements and colors that best express your concern. Let's take a closer look at this tradition.
Most Appropriate Funeral Flowers
Flowers can brighten up the funeral location and comfort a family. If you're part of the immediate family members, you may want to work with other family members to consider
Casket sprays
Wreaths
Urn Arrangements
Inside casket sprays
Table arrangements for a reception
Other large arrangements to adorn the chapel or other funeral location.
However, other family members send flowers for a funeral to show sympathy. A sympathy arrangement may come in the form of :
Baskets
Sprays
Plants
Wreaths
Hearts
Crosses
If you're not sure what type of arrangement to order, always talk with the funeral director or close friends of the family.
Some funeral announcement posts or obituaries may ask for other types of gifts in lieu of flowers. If that is the case, honor the family's wishes. If the announcement does not mention flowers, a funeral arrangement is a lovely way to honor the deceased and their friends and family.
Proper funeral flower etiquette means choosing a bouquet of flowers that matches the occasion to express your condolences. Next, we'll look at the types of flowers individuals and families often use in traditional funeral flower arrangements.
Traditional Sympathy Flowers
White Lilies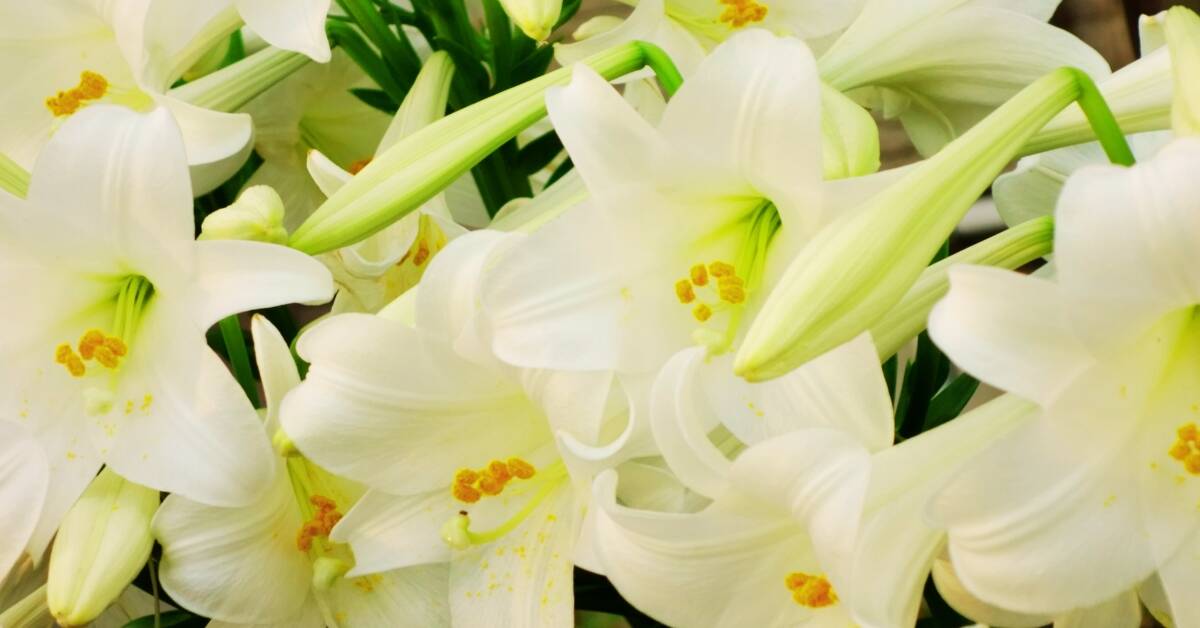 White lilies are a popular funeral flower, symbolizing hope, making them an ideal choice for expressing sympathy during a time of grief.  Families commonly choose them as part of beautiful arrangements for funeral and memorial service plans.
Your florist can design white lily funeral arrangements to express many different emotions. Casket sprays, wreaths, and urn lily arrangements honor the deceased. You can also use white lilies in table arrangements for a reception after the service or other large displays that adorn the chapel or other funeral location.
When combined with other flowers such as roses, carnations, daisies and more, they create stunning floral tributes that truly reflect the beauty of life and eternity.
Mums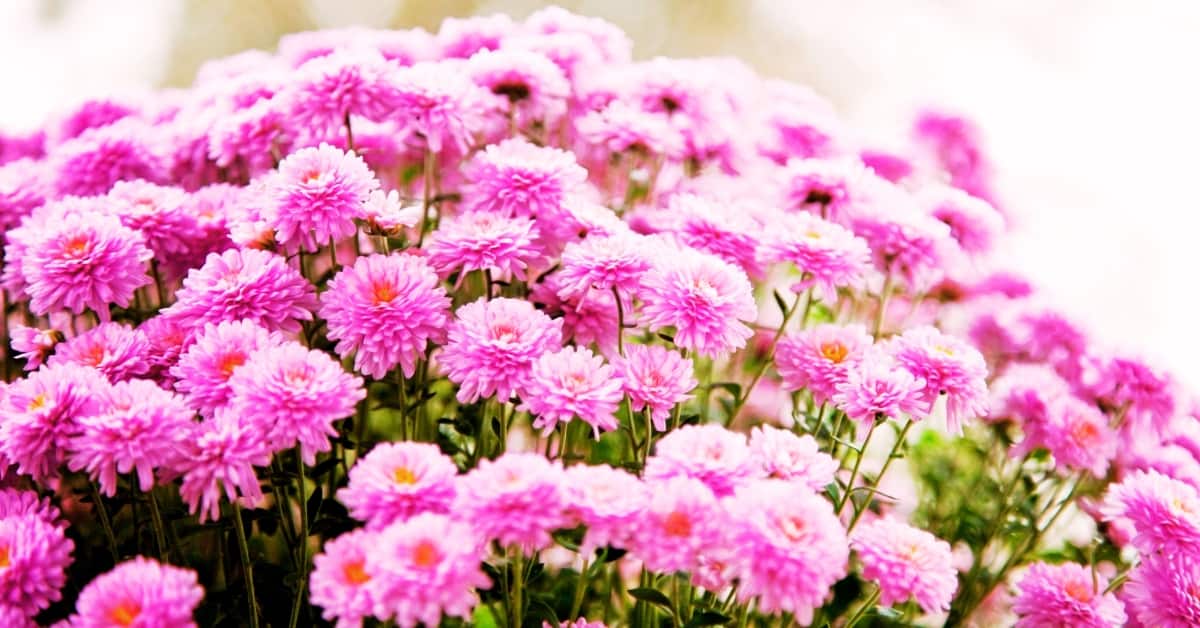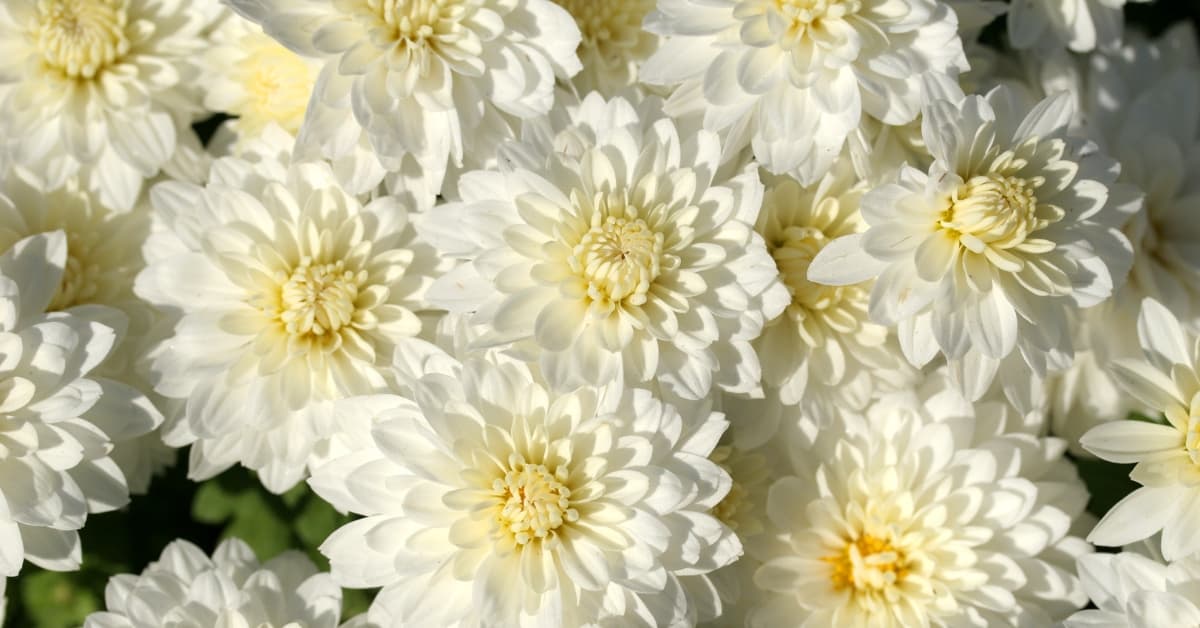 Mums represent the beauty of life and a peaceful transition into eternity. They can be used in many different arrangements, including casket sprays, wreaths, urn arrangements, and table displays.
Mums also make lovely additions to larger floral tributes that adorn the chapel or other funeral location. In some cases, they can stand alone as individual bouquets of sympathy flowers. The bright colors of mums offer comfort during difficult times and remind us that life is beautiful despite the sadness we feel when someone passes away.
Roses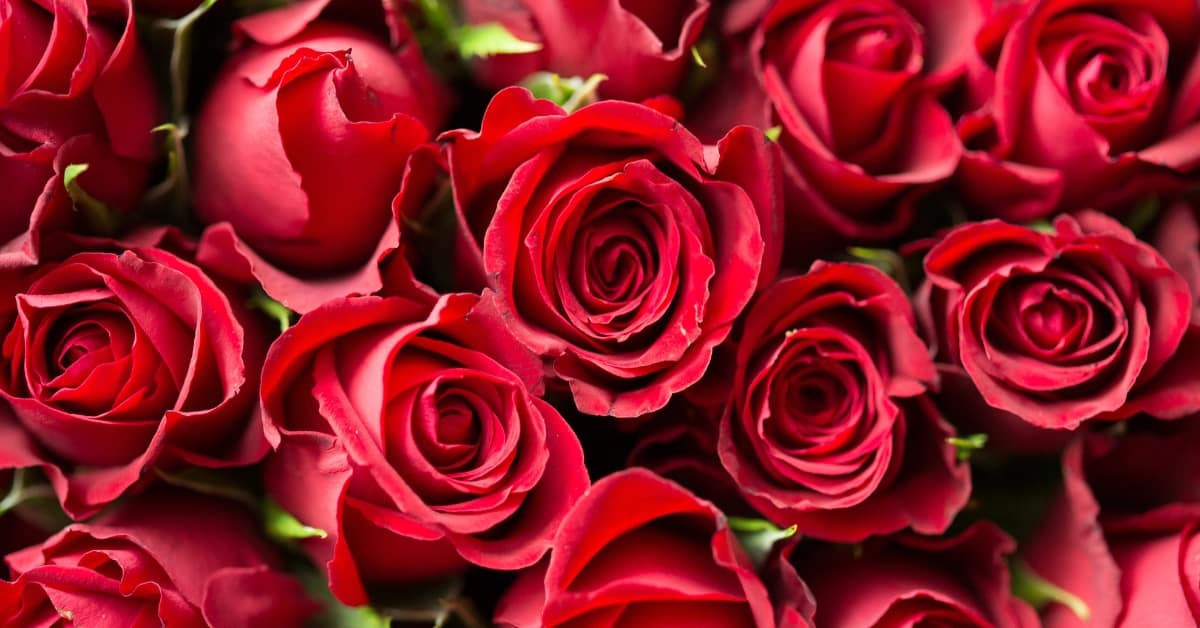 Roses are a popular choice for funeral and memorial service arrangements, as they symbolize love and respect.
Different colors of roses may have different meanings when used in sympathy flowers. For example, red roses typically signify love and admiration. And close family members and friends typically send red roses. Acquaintances more often would send another color.
White roses often represent innocence or purity. And other colors of roses express sorrow or comfort to the family during their time of grief. In addition to traditional bouquets, these beautiful blooms are beautiful in larger floral tributes that adorn a reception space.
By combining various colored roses with other flowers such as lilies, mums, and carnations, stunning floral displays can be created that truly reflect the beauty and celebrate a person's life.
Carnations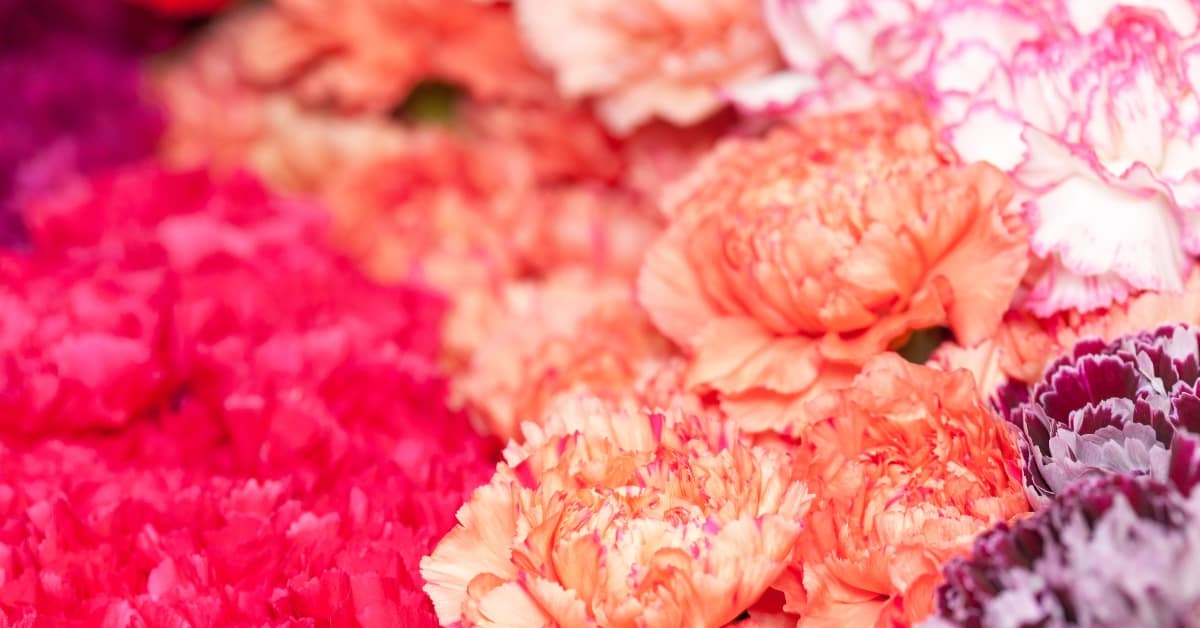 Carnations often express love and represent remembrance. These beautiful flowers come in various colors, including white, pink, and red, each with its own symbolism.
White carnations are often part of funeral bouquets as they represent innocence and purity. They can also symbolize the deep love and respect that the sender has for the deceased.
Pink carnations, on the other hand, can represent love and gratitude. They are often a favorite choice for mothers and grandmothers who have passed away, as they symbolize a mother's undying love.
Finally, red carnations can symbolize admiration and deep love. They are often chosen to showcase the strong connection between the sender and the deceased.
It is important to note that beyond their symbolism, carnations are also a practical choice for funeral arrangements as they are long-lasting and can withstand the heat and moisture that can occur during a graveside service.
Chrysanthemums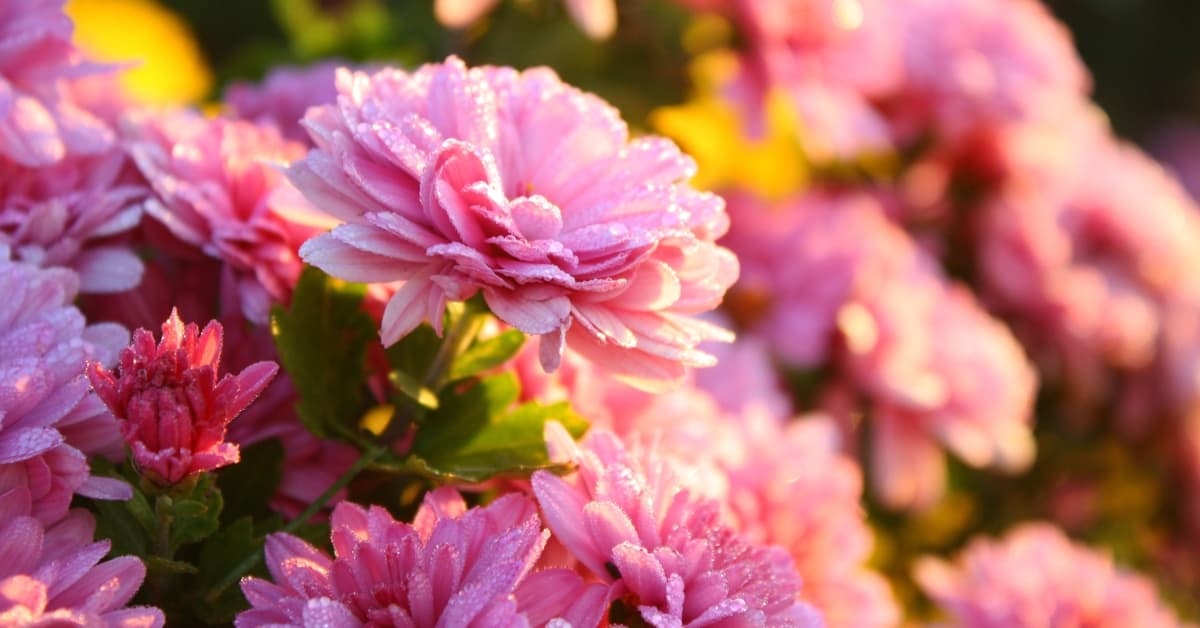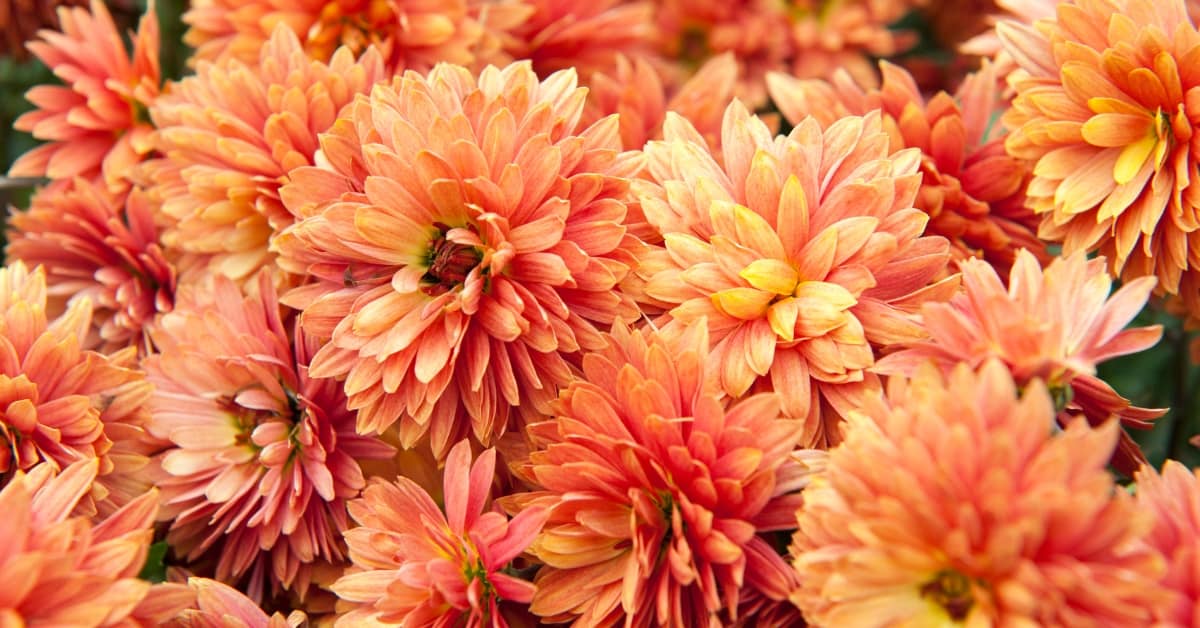 White chrysanthemums are the traditional flower for funerals, symbolizing truth and sincerity. However, other colors ae lovely for funerals as well. Chrysanthemums are often combined with other flowers and foliage to create beautiful and meaningful displays. They may be used in wreaths, sprays, and table arrangements, among other types of arrangements.
As the most traditional flowers for funerals, families have selected chrysanthemums as a funeral flower for centuries. In many cultures, they are seen as symbols of death, and they are referred to as the "flower of death." However, in some cultures, including Chinese, Japanese, and Korean cultures, chrysanthemums are symbols of life and joy.
Larkspur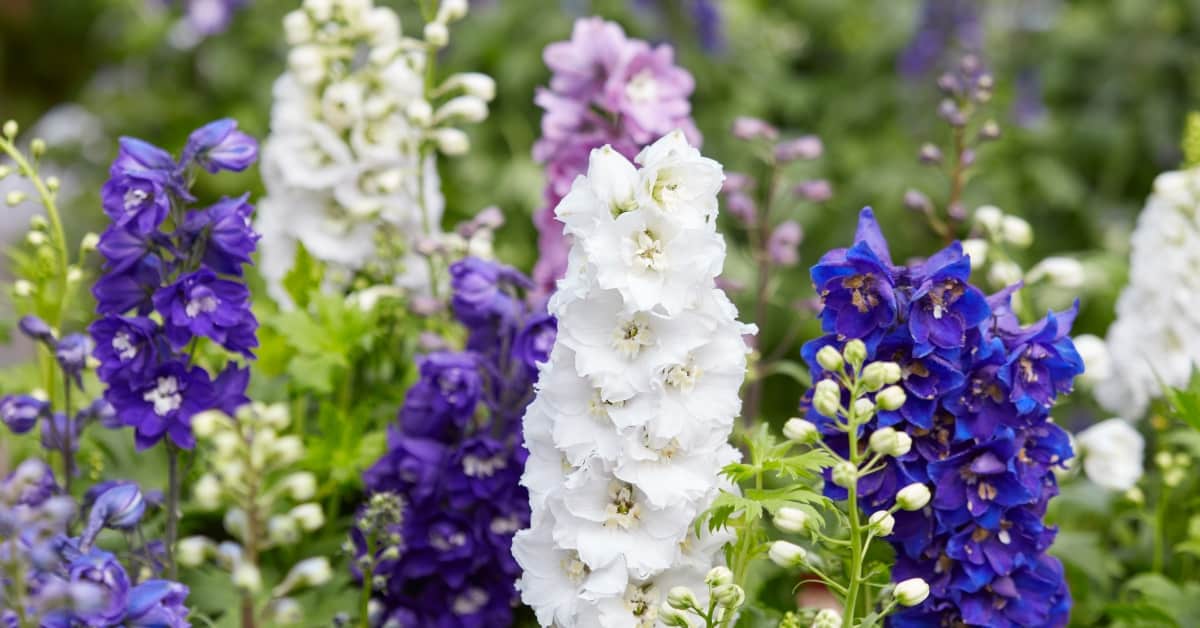 Larkspur stands for a strong bond that can never be broken and serve as a reminder of the deep emotional connections shared between the deceased and their loved ones.
Larkspurs are among the most popular flowers used in funeral arrangements due to their meaningful symbolism and elegant appearance. These delicate flowers come in a range of soft, muted colors such as pink, lavender, and blue, making them an excellent choice for creating a peaceful and serene atmosphere at the funeral service.
Furthermore, larkspurs are known for their deeply calming and soothing properties, making them a perfect choice for expressing sympathy and providing comfort to grieving family members. The gentle beauty of these bloom touches the hearts of all who see them, bringing a sense of peace and tranquility to the funeral service.
Hyacinth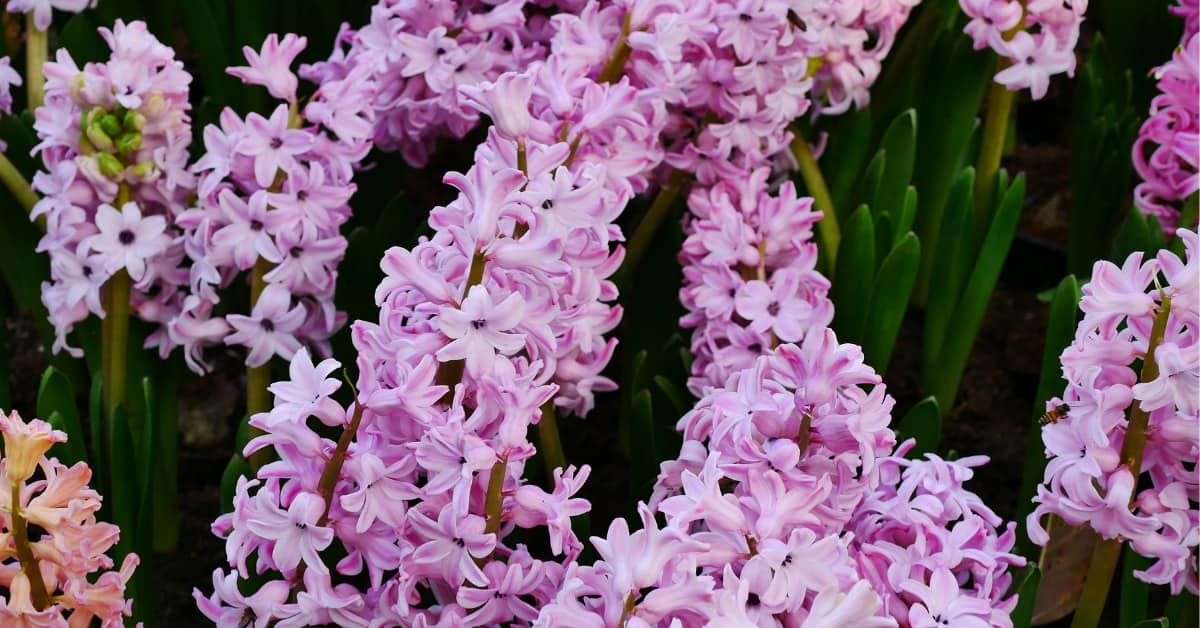 Hyacinths are fragrant blooms symbolizing deep and lasting sorrow, making them a fitting tribute to a loved one who has passed away. Hyacinths come in a range of colors, including white, pink, blue, and purple, each with its own unique meaning.
White hyacinths are often chosen for funeral arrangements as they symbolize innocence and purity, while pink hyacinths can represent love and affection. Blue hyacinths symbolize serenity and calmness, while purple hyacinths represent dignity and respect.
In addition to their symbolic meaning, hyacinths are also known for their beautiful fragrance, which can help create a peaceful and calming atmosphere at the funeral service. The sweet, fresh scent of hyacinths is often associated with renewal and rebirth, making them a beautiful tribute to a life well-lived.
Hyacinths are often combined with other flowers, such as roses, carnations, and lilies, to create stunning floral displays that reflect the beauty and celebration of a person's life. With their deep symbolism and fragrant beauty, they serve as a powerful reminder of the enduring love and respect that we hold for those who have gone before us.
Flowers Express Your Care and Concern for the Family
These are just a few of the popular flowers for funeral bouquets. It is essential to remember that the flowers you choose should reflect your respect for the deceased and provide comfort to their loved ones.
When you're selecting a funeral bouquet, keep in mind that the family may have religious or cultural traditions surrounding funerals. If you're unsure of the family's religious beliefs or traditions, you may not know what flowers to send. In that case, you can always reach out to a family member in advance so that your gift is appropriate and fitting.
Sending flowers to a funeral is a beautiful way to express your sympathy and support for the family. Make sure you know what types of flowers are appropriate, as well as the delivery policies of the funeral home, before placing your order.
Mixed Funeral Bouquet Flowers
You may also decide to mix flowers for a beautiful bouquet that gives many caring meanings of love and support to the family. Consider mixes like these below when speaking with or ordering from your florist.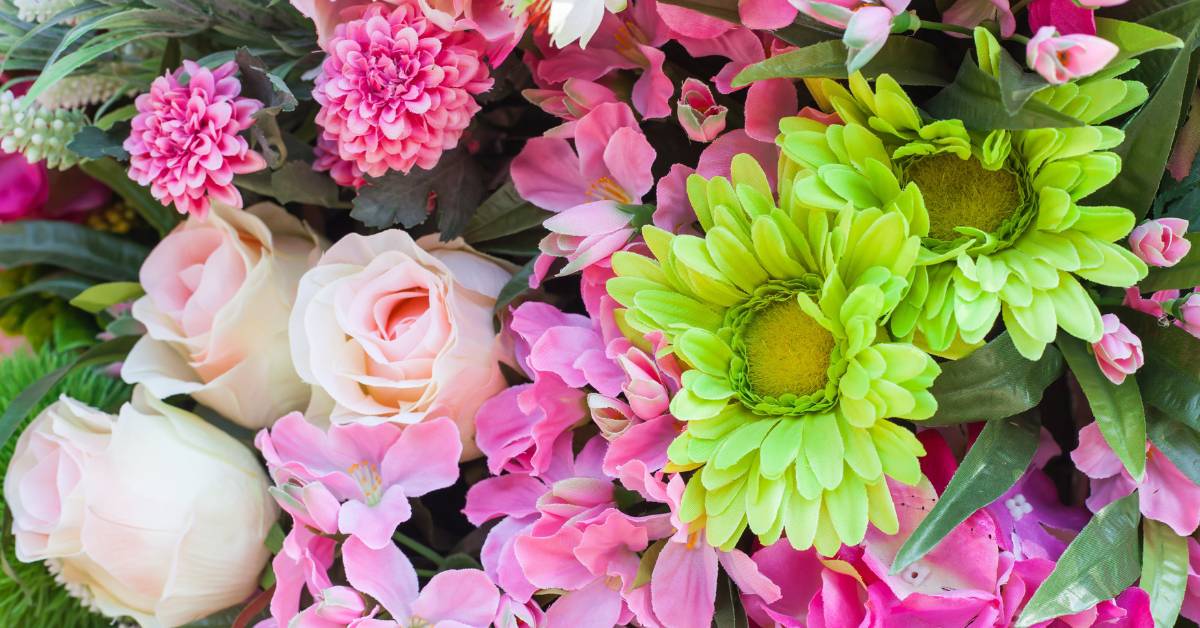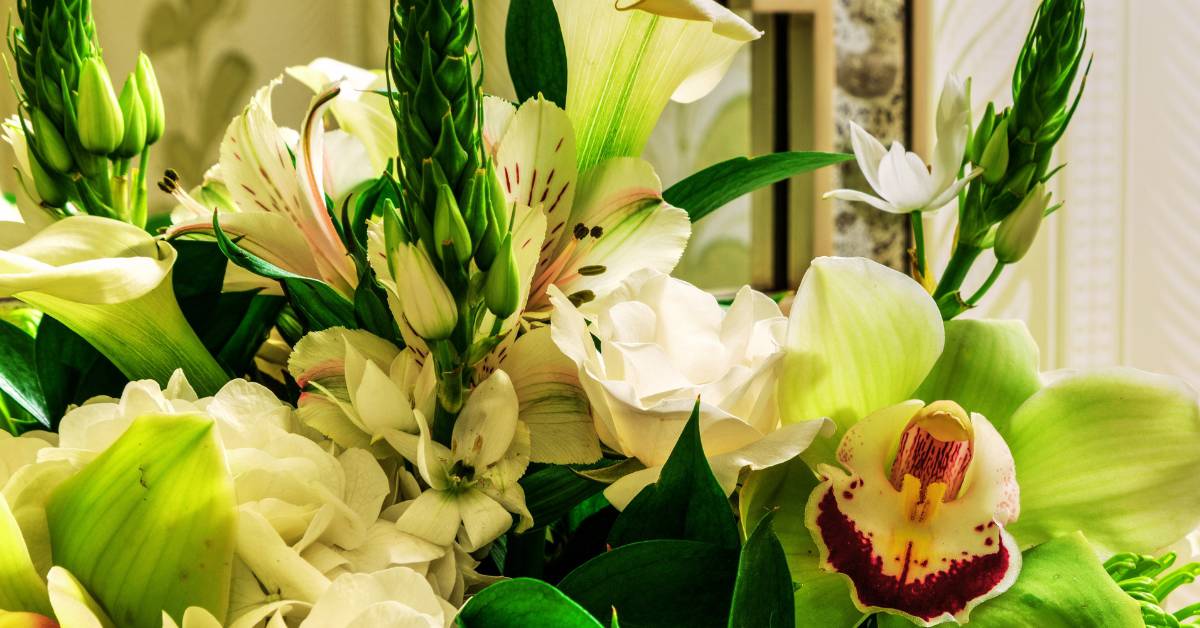 How to Send Funeral Flowers
When sending funeral flowers, there are a few different options you can choose from. You can either send them directly to the family or through a florist.
Online flower delivery services offer the convenience of ordering and delivering flowers from your own home. You can choose a bouquet that matches the occasion, select a delivery address and time, and then wait for the flowers to be delivered directly to their doorstep.
For those who prefer traditional methods, you can also order funeral flowers from a local florist. You can either visit the shop in person or order online. When ordering, be sure to provide the address of the funeral home and the date of the service so that your flowers arrive on time.
When sending funeral flowers, make sure to check with the funeral home to see what their delivery policies are. You can usually send flowers directly to the funeral home. It's best to place your order at least a few days in advance so that the florist has enough time to ensure your flowers look perfect for the day of the service.
You can also send sympathy cards with your bouquet, as well as a personalized message expressing your condolences. This will show the family that you are thinking about them and help them remember their loved one in a special way.
Sending Flowers and Plants Directly to a Family's Home
Sending potted plants, floral baskets, or a bouquet of flowers to a family's home can act as an additional gesture of care. These can be almost any type of arrangement that you think will give joy to the family at a time when the future may feel bleak.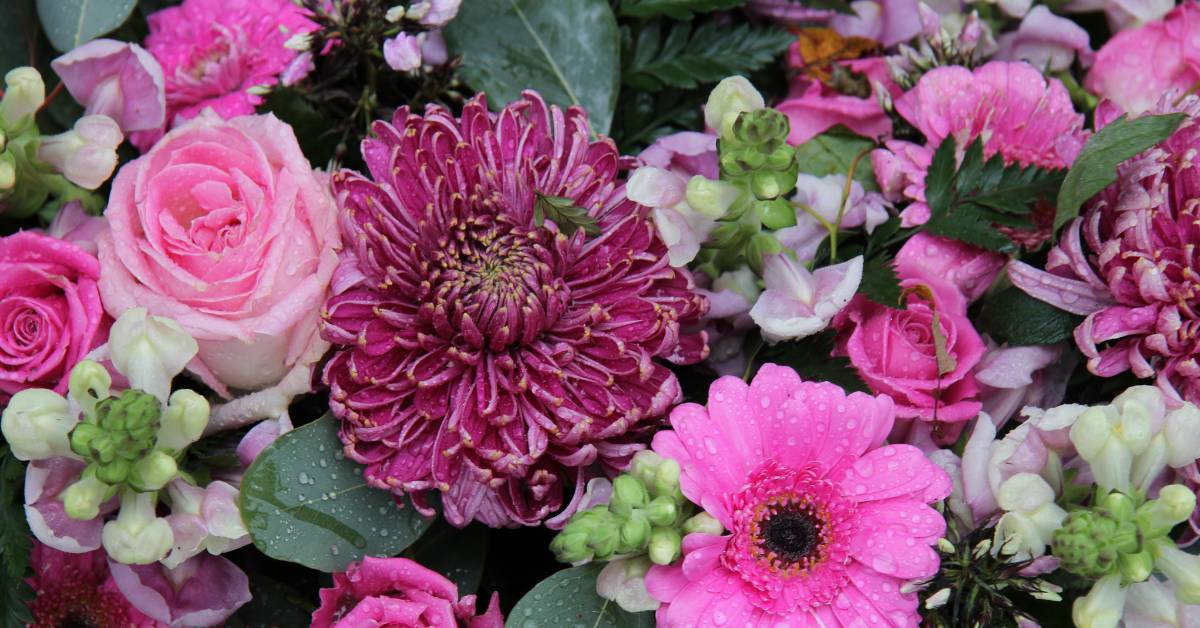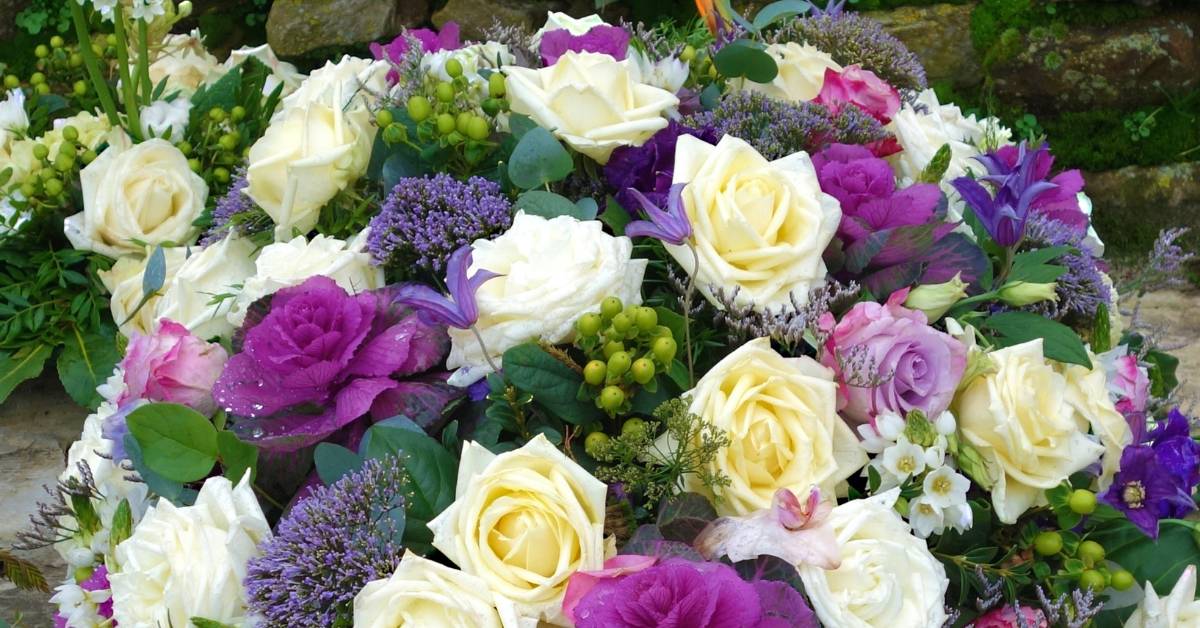 Floral arrangements can help cheer a grieving family, whether a bouquet, potted plant, or small tree. The life of the flowers can deliver a message to the mourning: life is beautiful.
Many cultures use flowers to cheer others and show sympathy. If you hand deliver flower arrangements to a friend, it also gives you an opportunity to see how the family is doing.
Since the grieving process can last months, you may even send standing sprays to a friend's funeral service and then wait a month before sending an arrangement to the family home.
It's hard to know the right words to say when friends lose a loved one. However, flowers always give a message of care, showing that you love and honor their loved one at this difficult time.
We Can Help With Sending Funeral Flowers
At Renaissance Funeral Home and Crematory, we help you create beautiful and memorable events to honor your loved ones. If you're unsure about flowers for a funeral or memorial you are planning, we can help you choose the best way to honor your family member.
We understand that selecting flowers is a special and delicate task, so we take time to help you plan for a service and ensure any flowers you may order are delivered on time and in beautiful shape.
We also understand that as a guest coming to a funeral or memorial, you may not know how to send flowers or which types of arrangements are appropriate. That's why we make it easy by offering flowers from a trusted florist right on our website.
Get in touch with us for any questions you may have about planning or attending a funeral. We care about your loss and want to help you celebrate a life well-lived and share memories with loved ones.