Making a beautiful memorial card for your deceased loved one can help friends and family remember their life well over the years. Having a memento from a memorial service can keep the memories and inspiration alive through the years. While funeral homes often provide this service so that you don't need to think about it, if you have access to a computer and printer, these cards are not difficult to make yourself. Let's look at the steps required to make and print out your own memorial cards.
Why Do It Yourself?
Perhaps you need to save money or just like to accomplish things yourself to ensure efficiency. Whatever your reason, getting started is easy. 
Many companies offer pre-made templates if you want something easy to make. You can use their software to complete your project and then order or print out the finished product. However, ensure that any template site you choose is a secure platform. Look for the HTTPS on the web URL. 
The sites listed below may cost money for a template, but could save you time and energy if you are not software savvy. 
Making Cards Yourself
To make your own cards for free, first, open the software you'd like to make the design. You can use Microsoft Word with the four-fold option template. Alternatively, use Google docs for a free memorial card.
In Google Docs, choose Insert  -> Drawing -> +New from the drop-down menu.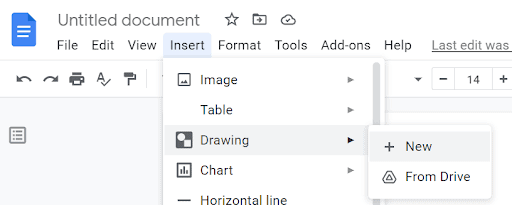 When the drawing box pops up, choose the first shape, rectangle.

Choosing a Size
Draw the rectangle to the size card you would like. Typical sizes for memorial cards include A6 or A7. Look at the grid lines along the top and bottom to resize your image. Choose width 2.9 by height 4.1 to make A7 size. 
| | | | |
| --- | --- | --- | --- |
| A5 | 148.5 x 210 mm | 14.85 x 210cm | 5.8 x 8.3 inches |
| A6 | 105 x 148.5 mm | 10.5 x 14.85 cm | 4.1 x 5.8 inches |
| A7 | 74 x 105 mm | 7.4 x 10.5 cm | 2.9 x 4.1 inches |
| A8 | 52 x 74 mm | 5.2 x 7.4 cm | 2.0 x 2.9 inches |
| A9 | 37 x 52 mm | 3.7 x 5.2 cm | 1.5 x 2.0 inches |
| A10 | 26 x 37 mm | 2.6 x 3.7 cm | 1.0 x 1.5 inches |
For the Front Page
A memorial card can be one-sided, two-sided, or four-sided. If you choose one side, you only need to make the front of the card. Here is an example of a one-sided memorial card made with Spark from Adobe. (The one below is A5 resized from their A4 size.)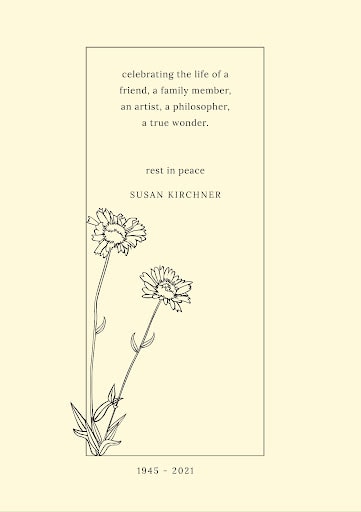 With Google Drive, you can upload an image and then crop it to resize the image. Popular ideas include flowers, crosses, or a picture of the deceased individual. Once you upload the image you want, you'll need to center the image in the rectangle. 
Add a text box and center the box and the text. You can choose whichever font and colors that you think best reflect the life of the deceased. You can even add clipart if you like. Once you're finished designing, click to save and close your drawing window. 

Finishing Up Your Design
If you want a second page, just copy and paste a duplicate image. Go to the columns menu to make 2 columns.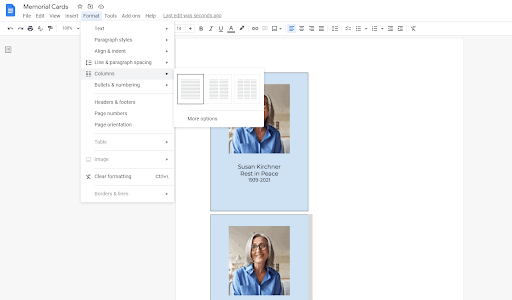 Once you choose 2 columns and backspace after your first image, your page should look like this: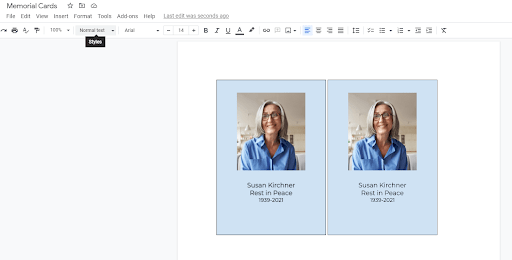 Next, you can double click on the second image and format it the way you like for the 2nd page of the memorial card. If you are only doing a double-sided card, you may want to print a prayer, a poem, or the order of service on the 2nd side. You can also list participants in the memorial service. 
Additionally, you can make a 4-sided card, and get creative about what you include. Perhaps a hymn to sing together at the end of the service? You could include a poem to recite all together. Or perhaps a list of survivors or the obituary would add a nice touch.
Once you've made all the sides you need, you can print and cut your cards. Alternatively, you could let an office supply store print and cut them for you. If you want the cards to last a long time, you can even let the store laminate your card.
We Can Help
If you need help making a plan for a memorial service, Renaissance Funeral Home and Crematory can come alongside you during your time of grief and help you think through everything. We are happy to help with the making of memorial cards so that you don't stress over these kinds of details. Our staff and funeral directors stand ready to walk you through the planning aspects of losing a loved one. Our memorial chapel and well-appointed parlor welcome your guests, should you choose our site for your services. Whatever your cultural background, religion, or traditions, we are here to help you create a beautiful and inspiring time with friends and family as you remember your loved one's life.