Whether you are planning for your own future or buying a headstone or memorial for a loved one, it helps to know more about what is available and how much you can expect to pay. A headstone is generally a smaller stone maybe a foot tall, while a monument may be as large as you like. But how do you know if your choice is of lasting quality and will stand the test of time? You can make the process easier by learning about how to choose a monument or headstone.
Before You Order
Check with the cemetery where the burial will take place before ordering a memorial or headstone. There are countless places online that sell these, but you could waste time and resources if you order without checking with the cemetery. Cemetery requirements include limits on the types of monuments allowed in the different sections of the cemetery. 
Also, keep in mind that if you order from an online granite provider, they are not local and don't have a relationship with your cemetery. In this case, the cemetery may charge you extra for the installation of the stone. It's always best to speak with the cemetery before making a final decision about what to buy. 
However, as long as the stone you order fits the cemetery's requirements, you are free to purchase wherever you choose. Just remember that the cemetery may charge additional fees if you order from out of town.
According to FuneralCircle.com, "Once you have confirmed where your loved one will be buried, you should check the regulations of the cemetery. This ensures that you avoid costly mistakes as there are likely to be restrictions on the type of headstone you buy. For example, an upright headstone may not be permitted for the burial plot chosen. A larger cemetery may have different requirements for each section."
When to Order
It is common for a granite company to need several months to complete an engraved headstone. If there is a shape or particular type of memorial statue, the monument may take much longer to complete. Ordering soon after the funeral makes sense so that you don't feel stressed or rushed about the stone's completion. 
However, understand that it is normal for a grave to stand unmarked for a time. This time of letting the soil settle is generally a part of the process for the cemetery. Most cemeteries have timelines for when to place the headstone or memorial. They also have regulations surrounding the installation. 
A local granite maker often has an established relationship with cemeteries in the area. The process of installation is smoother with a local monument maker. Regardless of who you choose, checking with your cemetery to understand their regulations prevents misunderstandings and additional costs.
How Much Will a Headstone Cost?
When you purchase a headstone or monument, ask the granite company about their base level options if you are looking for an economical solution. Some types of stones and engravings cost several hundred dollars. For a standard-level headstone, you may pay several thousand. Elaborate engravings, more words, or a uniquely shaped memorial stone can quickly drive the price upwards of $20,000. 
In big cities, you will often see large elaborate memorial monuments for the deceased. These kinds of statues with intricately engraved designs are much more expensive than a simple headstone. In addition, large stone buildings with areas to hold the deceased, called mausoleums, can cost upwards of $100,000 for interment.
A quick search on Amazon for "headstones" yields many options. However, working with out-of-town businesses may lead to disappointment if you are not careful. Your stone may look nothing like the presented pictures, and shipping costs or other incidental charges can add up. 
Often, businesses entice you by offering an attractive and low-cost option but then hit you with shipping fees or additional charges while the stone is in production. And if the stone doesn't meet the strict standards at the cemetery, they could refuse to install the headstone.
Types of Grave Headstones
While engraved granite is the standard for gravestones, new engraving methods and materials enter the market daily. 
For example, the headstone below, made of stainless steel and natural black granite, features an image designed from a picture you provide. This image is one of the options available on Amazon at Plaquemaker. You can customize the stone with a name, a quote, and dates of birth and death.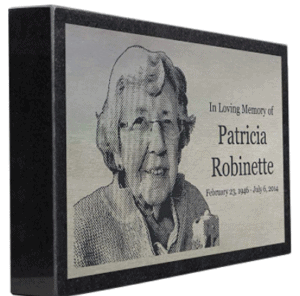 For an online order like this, you simply upload your photo and input the text. The company then emails you a proof to review. A headstone like this uses a laser-fusing process that permanently adheres your lettering and image to the surface. 
With technology, there are newer and more cost-efficient ways to memorialize your loved ones. Check out what is available and ask questions wherever you decide to order. 
Always Ask Questions & Visit When Possible
Make sure that the company creating your memorial understands the regulations of the cemetery. Most gravestone providers do not offer returns or exchanges. Once you approve of a proof and pay for the stone, you commit to your order. Visiting a granite provider and seeing how the process works may give you added peace of mind before laying out the money.
Working directly with your funeral home and cemetery to choose and install the stone can make all the difference in knowing what you are getting. Funeral directors and cemetery owners can also help you select the best materials. They are experts and know what stands the test of time to keep memorial stones looking good for decades or longer. 
Making the best choice for your loved one ensures that visits to the grave in the future will be about remembering your loved one rather than worry about whether the tombstone is holding up.
We Can Help
If you are planning a funeral and worrying about all of the decisions you must make, contact us. We desire to walk with you through every step of the planning process, giving you the information you need to make informed decisions that are best for your family. 
Every family and every person is unique. We respect your traditions and beliefs and embrace your individuality. Our funeral home is much like an extended family that hosts a time of remembrance and celebration for a life well-led. We take care of the details so that you and your family may rest and focus on the memories that matter and the family surrounding you. Contact us today and find out how we can help you.