Death is a difficult time for any family. Notifying friends and loved ones about the death of a family member can be overwhelming. That's why we have created this free death announcement template for you to use. This template will help you word your announcement in a professional and respectful manner. You can print it out and post it in newspapers across the country or post it on social media. Let's look at what to include in a death announcement.
Making a Plan: Funeral or Memorial Service
Before starting a death announcement, you'll need to speak with your funeral home director about planning your loved one's celebration of life, whether a funeral or memorial. Planning funeral arrangements before attempting death notices gives you the details you need before you start writing.
When a family chooses cremation, they often plan a memorial service. This allows time for far-away family to arrive and also for more extensive planning.
Those who decide on a funeral often plan one within a week or two and will need to get the word out as soon as possible so that loved ones can make arrangements to pay their respects at the planned funeral services.
Your funeral director can post your obituaries and death announcements on their own website to reach your greater community. They can also post a death announcement to other sites and to the newspapers you select.
What is a Death Announcement?
A death announcement is a short notice of death statement, usually only a paragraph long, announcing the person's full name, the city and state where they passed away, and their date of death. Also include their birth date and place of birth, information about their funeral or memorial, and if others may send donations in lieu of flowers.
A death announcement does not usually include a photo because of the cost of publishing. If you're planning to publish in multiple newspapers across the country, the concise wording of a death announcement allows you to share it with those near and far.
Publishing an obituary, which can be much longer, is often cost-prohibitive if published in multiple national newspapers. An average obituary can easily be $200.00-500.00 per paper, depending on the publication. Newspapers charge by the line, with the average obituary costing $200.00 and increasing with more content, including any photographs. (1)
Let's look at what obituaries include next.
What Are Obituary Announcements?
Obituaries include all of the information in a death announcement but also include information about family members who have passed on before and those left behind. Many also display a prominent picture of the loved one.
However, an obituary is also a tribute to a life and may include unique personal remembrances about the deceased and the feelings of those who loved them most.
Unlike a death announcement, you may write an obituary with a conversational tone as if you are talking to a friend who never met your loved one. A well-written obituary can help others better remember who this person was.
An obituary honors the person and their life, often including personal details and mentioning life memories shared together. Most people also include a photo of the person.
Death Announcement Templates
If you'd like inspiration to create a simple death announcement, use the template below to give a death notice to those in different areas of the country. You may select a national paper or several local papers to display the important details.
[Full name] passed away on [date] in [city/state]. [He/she] was born on [date] in [city/state]. Join us for a celebration of their life on [date] at [time] at [location] and for [graveside service and/or reception]. In lieu of flowers, the family requests donations to [organization] in [name's] honor.
Here is an example of another death announcement that you can modify to make your own:
"The Smith family announces the passing of their mother, Sarah, who died peacefully on April 14th, 2021 at home. She was born on October 6th 1948 in her home town of Camden, Maine. There will be a funeral held on May 3rd, 2021 a 2:30pm at St. Barnards Church. It will be followed by a reception. Please send donations to the American Heart Association in Sarah's honor." (2)
Once you've worked with your funeral director to create your newspaper death announcement and obituary, you may consider posting on your own social media sites such as Facebook or Instagram. 
With people moving around the country at a much higher rate than 50 years ago, it's more difficult to reach everyone with newspapers in our time.
Death Announcements on Social Media
For a death announcement on social media, you can include multiple photos or a collage of images, including different stages of the person's life. Include the death announcement template above or even the entire obituary.
If you feel uncomfortable writing your own post, you may simply share the obituary that your funeral director made on their website.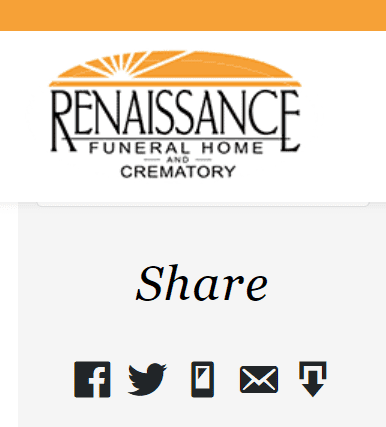 For example, At Renaissance, you click the icon of the social media platform you'd like to share the obituary to. Select the mail icon to email the obituary to others or choose the download icon to save it to your computer.
You may also use professionally designed templates and find a death announcement design that shows off your loved one's style. You can find possibilities for posting on your social media at sites like Canva, Vista, Fotor, and AdobeExpress.
Check out these template designs on Canva for inspiration when making your own social images and posts!
You can also ask others to share your post or add memories of your loved one in the comments. Don't forget to make your posts shareable so others can pass the word along.
By using both death announcements in newspapers and death announcements on social media, you can ensure that those who knew and loved the deceased can pay their respects, no matter how far away they may be.
We Can Help
At Renaissance Funeral Home and Crematory, we create beautiful and memorable celebrations of life to help your loved ones come together and honor a life. With our chapel and on-site crematory, we have everything you need to plan events to honor your loved one's life. We can also help you with a death announcement or obituary as a special tribute to your loved one.
We understand that a death in the family can be difficult, but our compassionate staff is here to help you through it. Please get in touch with us today with any questions or to learn more about how we can assist you in honoring the life of your loved one.