After a loved one passes away, the family is faced with many decisions. One of those decisions is whether they want a burial or not. Traditional burial in America is to use a funeral home, embalm the body, have a visitation and funeral, then a graveside service at the cemetery. However, some families prefer other burial options. We can guide you through the choices.
Our Two Most Popular Burial Services
Burial with Viewing & Funeral (Same Day) – $7,222

Professional Services
Transfer of Deceased to the Funeral Home
Care and Preparation (with embalming)
Visitation and Funeral (same day)
Basic 20ga Metal Casket
Hearse
Graveside Service
Burial with Graveside Service Only – $6,323

Professional Services
Transfer of Deceased to the Funeral Home
Care and Preparation (no embalming)
Basic 20ga Metal Casket
Hearse
Graveside Service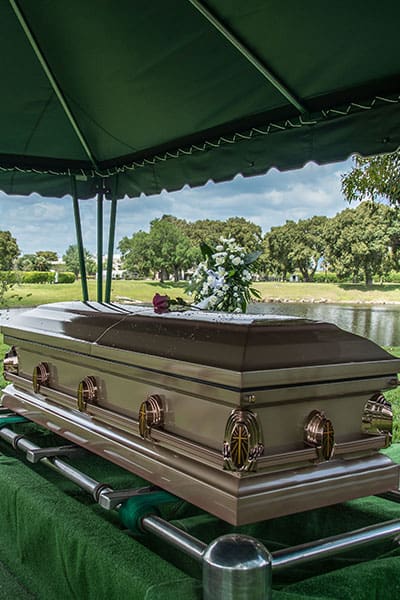 Choosing a Casket
Most cemeteries require the use of a casket to enclose and transport the body. The family will choose what the casket looks like or can even build their own casket. The casket you choose will depend on several factors. One of those factors is your budget. Different caskets cost different amounts of money. You can choose a simple casket to save money or a more extravagant casket if your budget is bigger. Another factor is personal taste. Caskets come in different colors, materials, designs and personal features. You can choose the casket that best suits your personal taste or the unique life of your loved one.
Burial Vault or Liner
A vault or graveliner is typically made of concrete, steel, plastic or fiberglass-type materials. It completely encloses the casket in the grave. State and federal laws do not require the use of a burial vault, but most cemeteries do. The vault or graveliner keeps the grave from sinking in after decomposition of the body and casket. Vaults, generally, seal the casket from outside elements. Graveliners are similar to vaults however graveliners do not seal the casket from outside elements.
Embalming 
While embalming is not required by law, there are several reasons why families choose to do so.
If you prefer to have an open casket, funeral homes may require that the body is embalmed. If there is going to be an extended time between death and burial, embalming is likely to be needed. Public health laws may also require embalming if the body is going to be transported overseas. 
If you do not prefer embalming, there are several alternative options that we can offer. Shipping human remains to another state does not necessarily require embalming.
Burial at a Cemetery
A permanent memorial in a public cemetery provides a place for a family to visit for years to come. It is important to be remembered and having a place of burial that can be visited will aide in that need. Burial in a cemetery can provide the closure that is needed for family members. It can help the healing process begin. A permanent resting place for the deceased is a way to memorialize your loved one forever. 
When planning a traditional burial, there are decisions you will have to make. There are important things to know when considering a traditional burial for your loved one. We hope this has made the process a little clearer and simpler for you.
Plan Ahead Today
Pre-planning the funeral experience for your loved ones provides you with time to make end-of-life decisions in a calm and rational atmosphere. Start the online planning process now, or meet with one of our pre-planning advisors.
Choosing a Raleigh Funeral Home
While it is not mandatory to hire a funeral director, a professional makes the process much easier.
Most families choose to use a funeral home because of the standard of care and the regulations around the handling of the deceased.
It is important to choose a funeral home that will listen to your wishes and work with you to make sure what you want is carried out.
Funeral homes can work with different budgets and add special touches to personalize the funeral.