Buddhist Funeral Traditions
The general protocol for Buddhist funerals is a simple ceremony that takes place in a Buddhist temple, a funeral home, or the family home. Usually, a monk will be the officiant but sometimes it will be a minister or a priest. There aren't any formal guidelines, but you can expect prayer and meditation.
There sometimes will be a wake in which mourners can pay their respects to the deceased and express their condolences to the family. There will be incense burning, flowers and fruit, candles, and a portrait of the deceased person in front of the casket. Buddhist tradition says that an image of Buddha should be placed near the altar, as well.
Buddhists typically favor cremation because they believe it is an important way to release the soul from the physical form. But burial with embalming is allowed, too. Buddhism also allows the donation of organs and autopsies. 
White flowers can be sent to the family before the service. Red should be avoided and never sent. Sending gifts of food is acceptable but no red. Donations to charities are also acceptable. 
If you attend a Buddhist funeral, you should respect the somber occasion by being very quiet.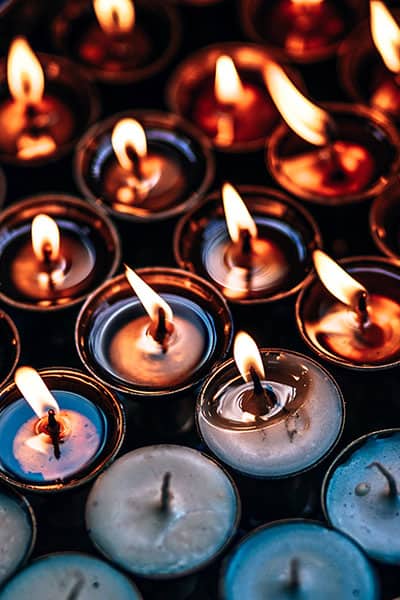 Common Questions About Buddhist Funerals
What to Expect at a Buddhist Funeral?
When you arrive at the funeral or wake, you should quietly proceed to the alter. Buddhist funeral etiquette calls for mourners to take a slight bow with their hands folded in front of them in a prayer position. You may then stay for a while or leave, according to your personal preference. Visitors often make a financial donation to the family.
You will then find a seat and wait for the service to start. Follow other's behavior as far as sitting and stand goes. If they stand, mourners should stand too. 
The service usually consists of sermons, chanting and eulogies delivered by monks or other Buddhists that knew the deceased. There may be meditation. Mourners should join in the chanting or sit quietly if they are unable to. 
Head coverings should be removed during prayer. 
If the body is to be buried, monks may lead chanting at the gravesite. If no monks are present, family members may lead chanting then the casket should be placed in the grave. 
Friends may visit the deceased's family home after the funeral, but not before. 
What to wear to a Buddhist Funeral?
The family typically wears white to a Buddhist funeral while friends may wear black. Bright colors are never appropriate, and neither is a display of wealth in the choice of clothing.
Plan Ahead Today
Pre-planning the funeral experience for your loved ones provides you with time to make end-of-life decisions in a calm and rational atmosphere. Start the online planning process now, or meet with one of our pre-planning advisors.
Choosing a Raleigh Funeral Home
While it is not mandatory to hire a funeral director, a professional makes the process much easier.
Most families choose to use a funeral home because of the standard of care and the regulations around the handling of the deceased.
It is important to choose a funeral home that will listen to your wishes and work with you to make sure what you want is carried out.
Funeral homes can work with different budgets and add special touches to personalize the funeral.